All piano listing prices include a tuning and delivery within 30 miles and first floor!
Selling on consignment through us offers several advantages over selling privately
We are open 6 days a week, so customers can come in and try out the instrument.
You don't have to worry about setting up appointments and having people not show up.
You also don't have to worry about dealing personally or financially with complete strangers — often risky business on Craigslist.
Potential buyers usually feel more comfortable dealing with a reputable store than with a stranger.
Your instrument will be listed on our website, which will receive much more exposure than in a private ad or Craigslist.
You can be assured, as a seller, that your instrument is priced at fair market value and has been thoroughly inspected by experts.
For the most up to date list of current inventory, please contact The Piano Gal Shop at  (608) 318-2677.
All used pianos that are available for purchase at The Piano Gal Shop have been thoroughly inspected for condition and quality from the owner, a trained piano technician. Once deemed a quality piano, it is then regulated and tuned prior to sale. The first tuning after the piano is moved, as well as a 1 year limited warranty are included in the piano sale price. Other used instruments that are for sale at The Piano Gal Shop are inspected for condition, playability, and value prior to resale. All used instrument sales are final.
On occasion, The Piano Gal Shop will offer an upfront purchase for a used piano. This is on a case by case basis and depends highly on the piano's brand, age, condition, and availability of space in our showroom. Please contact The Piano Gal Shop directly for more information.
Know someone looking for a great quality new or used piano? Refer them to The Piano Gal Shop and receive a $50 Visa Gift Card if they purchase a piano from us. Simply print our handy Referral Ticket from and have the buyer present it at the time of purchase.
In the market for a piano? Watch The Piano Gal Shop and Musicnotes Essential Guide for Buying New and Used Pianos video first!
Current Pianos for Sale
Financing is available on ALL pianos anywhere from 6 months up to 8 years. For more information on our financing options and to apply, please visit The Piano Gal Shop, or use our Web Apply online application tool.
Kawai Upright $3700
Built: 2011
Finish: Black Satin
Model: K2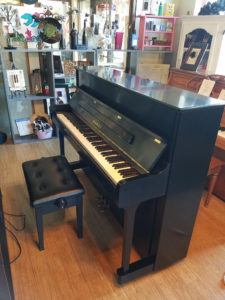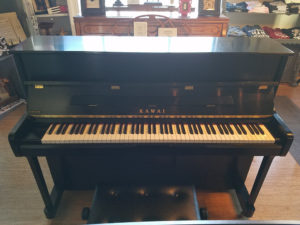 2010 Roland Digital $1400
Model: HP203
Comes with bench, cords, and original receipt of purchase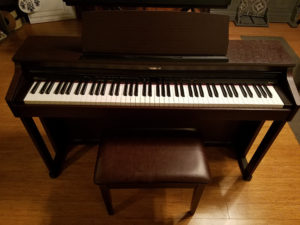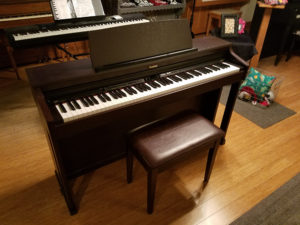 1994 Baldwin Upright $2200
Now $1800
Custom black painted with new hardware and upholstered bench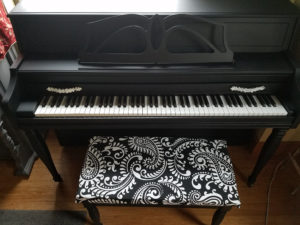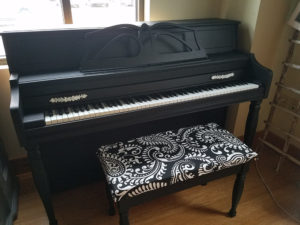 1986 Samick Upright $1800
Oak Finish with newly upholstered bench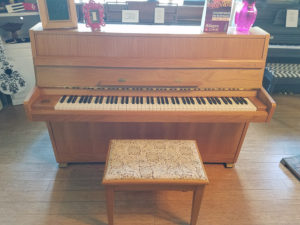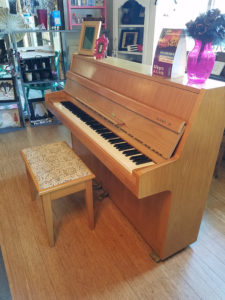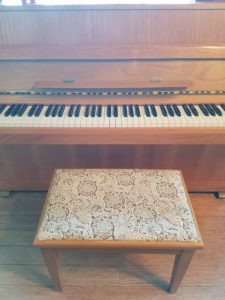 Casio Privia PX350 Bundle Package $860
New
Includes: Keyboard, Stand, Bench, Pedal, and Cords
Also available for Rental To Own

Casio Privia PX160 Bundle Package $685
New
Includes: Keyboard, Stand, Bench, Pedal, and Cords
Also available for Rental to Own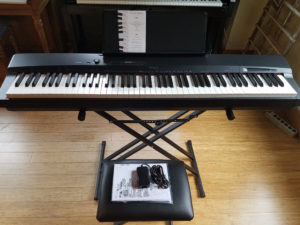 Story and Clark Console Upright $2000
Now $1600
Built 1987
Finish Dark Walnut