Heirloom Piano Commissions by Piano Gal
So, a lot of pianos that were built in the early part of the 20th century were, at one time, beautiful instruments. Unfortunately, it's usually not worth spending the money to restore them because the restored piano will not be worth as much as the restoration cost. The demand just isn't there, so the resale value is poor for most old pianos. This is the place many family pianos are currently at. They've sat for decades and are in great disrepair. They hold little to no monetary value.
What should be done with the piano then? Many people let it sit and collect dust because it's sentimental and means something to them. They also feel it is a great shame to throw out an instrument that looks so beautiful from the outside. What many do, is either put it up for free on sites like Craigslist, or they let it go to the curb. Both of these choices are problematic.
First, putting a piano for free on Craigslist, is a disservice to the buyer. Not being experts with pianos, they assume that this bargain piano can just be tuned and be ready for their family and children to use for years to come. This is a disservice to whomever takes this piano of your hands. A beginning piano student, school, or church needs a good quality, fully functional instrument, not a piano that is completely falling apart and doesn't play properly. Second, leaving it for the curb has two negatives. It will take up unnecessary landfill space and an instrument with many reusable parts, pieces, and beautiful wood working is being thrown away. Not to mention, that a piece of your family history will be gone.
There are so many people in this situation where they have a turn-of-the-century piano that belonged to a member of their family. The piano no longer has monetary value, no one in their family plays the piano so restoration is not worth the money, so what can be done? This is simple. Piano Upcycling is such a wonderful option. I am a piano technician with extensive knowledge on pianos, so I am able to expertly disassemble them without damaging their beauty. Then, as an artist and craftsman, I can turn something that is no longer functional, into something that can be enjoyed for decades to come.
By commissioning a project such as this, a person is being environmentally conscious, recycling, keeping an important piece of family history, getting a functional piece of art, and supporting small business!
How it works:
If you are interested in commissioning an upcycling project, scheduling a visit to see the piano or instrument is the first step. After that, I will help you navigate through ideas as to what can realistically be made from the instrument and an estimate will be given following the appointment.
What goes into the cost:
Pick up of the piano to be brought to The Piano Gal Shop work space
All materials needed to create the finished piece
Disassembly of the instrument
Disposal of non-usable parts and materials from the instrument
Haul away of large un-used parts i.e. cast iron plate
Labor for rebuild
Delivery of finished piece
After the design and estimate are approved, 50% of the estimate is due prior to or at the time of pick-up of the instrument. Marta will then keep clients informed of the ongoing project. When the project is complete, the client will pay the balance and the delivery can be scheduled. The timeline for a commissioned project varies greatly due to the nature of each project being different. However, a general timeline of 2 weeks – 1 month is average.
If you are interested in commissioning an upcycled piece, please contact The Piano Gal Shop at 608-318-2677 or thepianogalshop@yahoo.com.
Musically,
Marta Hansen
The Piano Gal Shop
Hammond Organ Tables – See how it was done
Baby Grand Piano Bookcase – See how it was done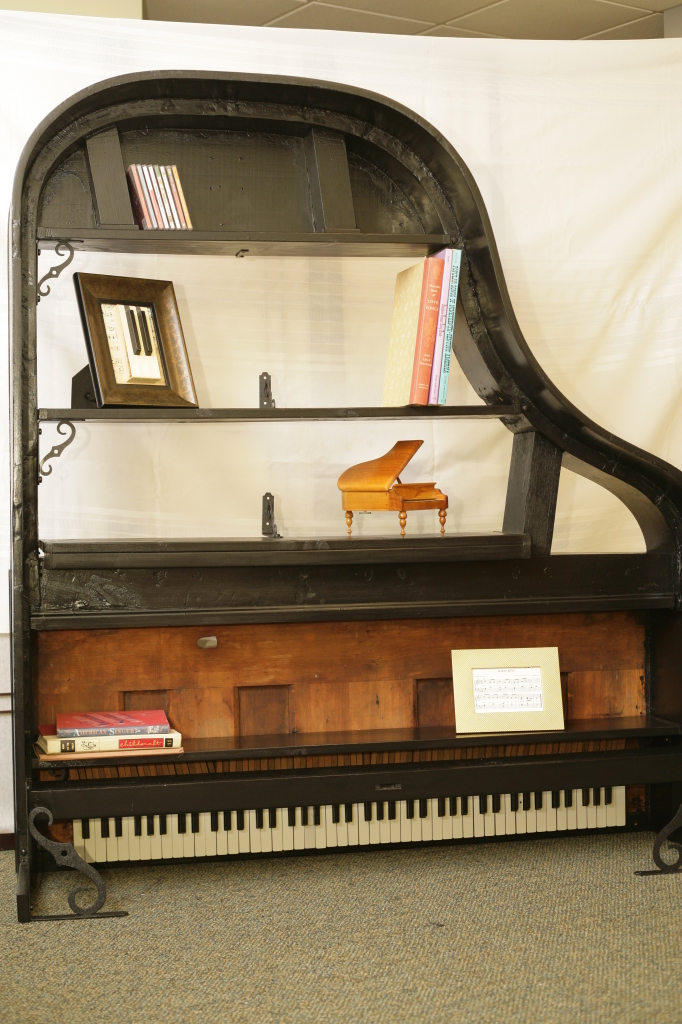 Piano Bar – See how it was done
Piano Desk June 2014 – See how it was done